About BFC
We've got over 100 years of experience in FX and money transfer internationally,
making BFC the trusted choice!
Bahrain Financing Company (BFC) is the leading Money Transfer and Currency Exchange company in the Kingdom of Bahrain. Whether you're sending money home to your loved ones or going on holiday and need foreign currency, we have all your needs covered.
Our Group History
We started in the Kingdom of Bahrain in 1917, trading in gold bullion and continually growing our services when in the 1970's we entered the remittance market, giving the fast growing expat community the opportunity to send their hard earned money home. We are licensed by the Central Bank of Bahrain and now specialise in global money transfers, foreign exchange and wholesale currency services.
In 2008, we became part of BFC Group Holdings W.L.L, after Bank Alkhair, the Islamic Financial Services Group, bought a controlling stake in BFC in Bahrain, Bahrain Exchange Company (BEC) in Kuwait and BFC Exchange Limited (formerly known as EzRemit Limited) in the United Kingdom.
Since then, due to great success, BFC Group has grown its retail operations even further, opening up BFC Forex & Financial Services PVT Ltd  (BFC Forex) in India.
Bahrain Financing Company is a Shariah-compliant company.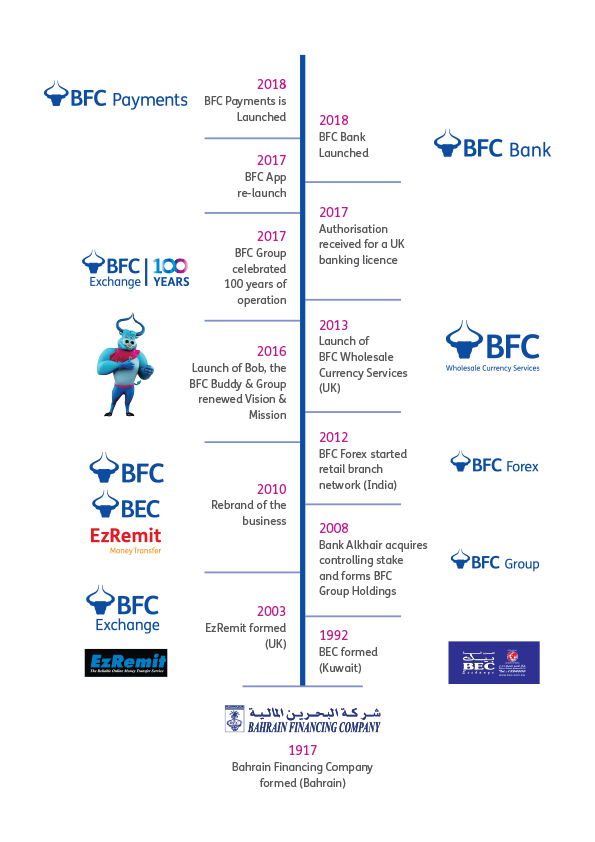 Our Services
We work hard to build a brand that thousands of customers know and trust.
We take pride in what we do, and always strive to improve our money transfer and currency exchange services.
We are now over 100 years old and still growing fast, with over 46,000 payout agents in over 30 countries worldwide, as well as over 50 branches in Bahrain.
Care
We are passionate about understanding our customers and responding in a manner that meets their needs.
Knowing we are part of a family who look out for one another.
Trust
We are open, honest, accountable, and operate in everyone's best interest.
We work together to create a culture of respect and appreciation for all.
Efficiency
We work hard looking for ways to improve our operations through creativity and innovation.
Building a professional multi-cultural team, to connect with our customers.
Our Vision
To be the prominent money service company that fully engages with our customers, keeping money flowing across borders.
Our Mission
Providing trusted money services in the most caring and efficient way making a positive difference in the lives of our customers.
Contact Us
We'd love to hear from you, so feel free to get in touch with any feedback or a query and someone from our team will get back to you.
Contact Us